In the 1960s, Victorian culture was widely derided. Victorian buildings faced demolition and the works of many authors of the period had fallen into neglect. The Victorian Studies Centre at the University of Leicester was founded against this climate of modernism, rejuvenating British scholarship on the nineteenth century.  Born following the establishment of the Victorian Studies program at Indiana University in the United States, it was the first centre of its kind in the United Kingdom.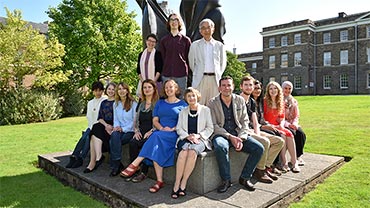 The Centre began as an informal Victorian Studies group in 1960, under the guidance of Dickens scholar Philip Collins and the urban historian H. J. Dyos. In 1966, thanks to a generous grant from the Leverhulme Trust, the Centre and its MA course were established within the Faculty of Arts. As suggested by the varied interests of its staff, research and teaching in the Centre approached the Victorian period from an interdisciplinary perspective, incorporating literature, economic and social history, urban history, and the history of science. Teaching began in 1967, with a curriculum based around two broad themes: the city and religion.
The MA programme and research at the Victorian Studies Centre today continue in the interdisciplinary tradition of its founders. Attracting scholars from across the world, the staff and students in the Centre examine both the dramatic and intimate changes in industry, science, lifestyle, and social mores, as well as the literature and art that shaped and reflected Victorian life.
This exhibition displays themes that exemplify the research of the Centre: Dickens, the city, women, and science. It contains some of the most significant Victorian items in the library's special collections, such as the original serial parts of Dickens's Martin Chuzzlewit and an early edition of Darwin's On the Origin of Species. Alongside these items are displayed some less well-known examples of Victorian print culture important to the work of current PhD students and staff, including many Victorian periodicals from the library's extensive collection. Finally, the exhibition includes recent works published by staff in the Centre.
Together, these items demonstrate not only the richness and variety of Victorian culture but also the Centre's diverse approaches to the study of this fascinating period. The physical exhibition on which this online display is based ran from 22 November 2017 to 9 March 2018. 
Credits
Exhibition by Simon Dixon, Richard Fallon, Jennifer Miller, and Alice Turner